Nigeria 25 Reunions
Nigeria 25 has no currently planned reunions. Anyone reading this from Nigeria 25, how about it? Set up a ZOOM reunion in 2022! It is easy. FON can help by sending out emails to those veterans that NPCA has addresses for, just ask.
Nigeria 25 (1966 – 1968) trained at U.C. San Diego, with a focus on agriculture and community development.  The fifty-one members of the group were posted throughout the then Northern Region.  Members of Nigeria 25 have met twice so far using the Zoom platform.  What follows is a summary of the 2nd Zoom reunion, prepared by Pete Anderson:
November 2020
Gents,
After it was over – a total of 4hr 2min from the beginning – I felt so proud to be associated with such a great bunch of guys.  Thank you all for doing what you've been doing for the last 50+ years and sharing a bit of that with the rest of us.   I know I speak for John (McComas) as well.  Without a doubt.
There were a  wonderful 15 of us in attendance on Sunday, some right after breakfast, some missing lunch, some forced to take their dinner late, and poor Ed Abdullahi having to stay up until midnight in Kano when we finally closed our Nigeria 25 ZoomReUnion meeting.  Oh, and to make the Sunday meeting, Mike Malaghan in Japan had to get up at 5:00am Monday morning.  
So to put some structure to the meeting, John & I had decided ahead of time to establish a theme for each of our respective 5 minutes at the microphone.  (John & I also learned what "5 minutes" means to everyone!  Hmmm,  just a bit more…)   We asked that you describe whatever you feel is your "identity" and how you came to it.  We pretty much knew that everybody would say that their Peace Corps experience was a critical element in the formation of your identity, and you proved us right.  But your stories were as varied as they were descriptive.  Fifteen of us were there, but that meant 8 of us on the email blast from John were not. Some had told us they couldn't make it (Dan Huffman, Steve McKee, for a few …), so I've prepared as quick resume of our stories for those who missed the event, in hopes that this may entice them to make the next one.  (and also to serve as an "archive" for our stories)  I'm sure to make mistakes in my summary, so PLEASE write back to all of us and correct me.  And for emphasis, please embellish your identity story at length.
And just to remind you:  John & I heard everyone say "YES," they want a sequel to this ZoomReUnion sometime next year.  Please let John & me know of how you might like the ReUnion to be:  What kind of topic for discussion?  Different way to "host" it?  We're absolutely open to anything !  Just don't go away!!!
A few days before the meeting I had received an impressive "bio" from Stanley Scarf, which he gave me permission to share with everyone.  I'll forward that separately.  He couldn't make the meeting, but we're hoping next time….
John related that in his research of FON directories of Nigeria 25, three people are listed as requesting not to be contacted:  Bob Burke, Dan Huffman, and Irv Solloway. Well, as it turns out, Dan Huffman has been in episodic contact with Pete Stolzman, Steve McKee and me for several decades, so I'm herein going to softly violate his wish for privacy by including him in this email.  While he may choose not to reply, I know he will love hearing what you all have been doing for the past half century. And maybe he will be inspired to join in the next ZoomReUnion.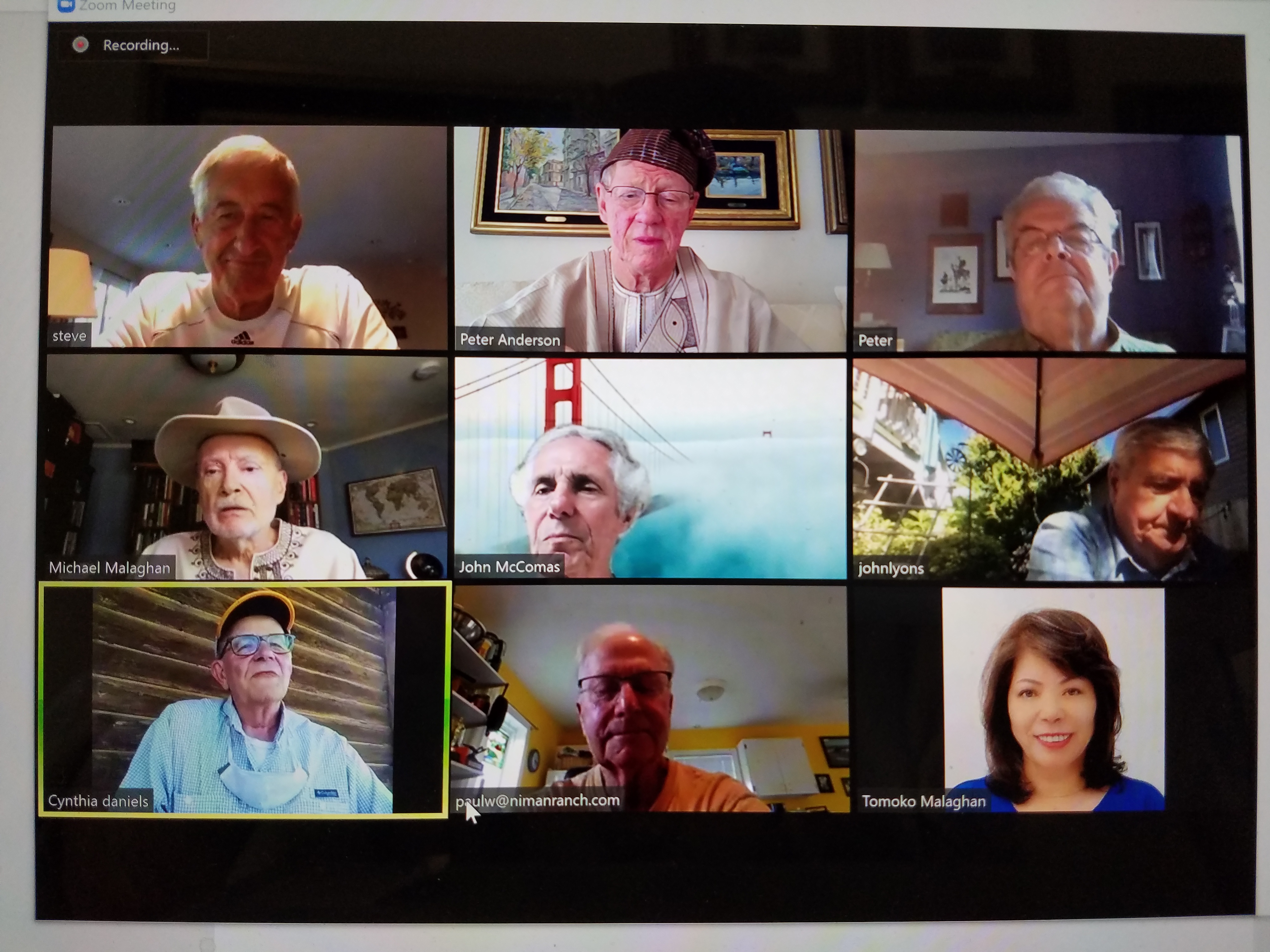 Members of Nigeria 25 at the November 2020 meeting are:
Peter Anderson
Ray Carpenter
Ron Daniels
Royce Field
Clemmie Gilpin
Todd Hanson
Jack Lyons
Rollie Long
Mike Malaghan
Tom Martin
John McComas
James Porter
Peter Stolzman
Abdullahi Ed Tomasiewicz
Paul Willis
Hausa Proverb
Gaskiya ta fi kwabo.  (Truth is worth more than money)